The Pennsylvania records are finally available and free to all of us!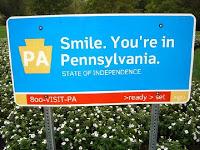 Pennsylvania has long been considered one of the most difficult states for genealogists trying to access older vital records, but a bill signed into law in December 2011 has finally helped us catch up with the times - at least a little. As of 14 February 2012 the PA Division of Vital Records has opened death records older than 50 years and birth records older than 105 years for public access, and put up free online indexes to both record sets to help facilitate access. The free PA birth index only covers the year 1906, as births from 1907 to the present are still covered by privacy laws, and pre-1906 birth records are held by the counties. The free PA death index covers the years 1906-1961. Unfortunately, the new indices are in digitized, PDF format - organized by year and first letter of the surname. At least they are available online! The birth index for 1906 appears to be currently searchable, but be aware that a search does not necessarily pick up all of the names.
Copies of these 1906 birth records and 1906-1961 death records can be ordered by mail from the Pennsylvania State Archives for a fee of $15.00 per record. An uncertified copy can also be obtained through the PA Division of Vital records for a fee of $3 per record. For now, expect to wait 16-20 weeks to receive your record.
Tuesday February 21, 2012