Dear Ancestor
"Your tombstone stands among the rest
Neglected and alone
The name and date are chiseled out
On polished marble stone
It reaches out to all who care
It is too late to mourn
You did not know that I exist
You died and I was born
Yet each of us are cells of you
In flesh and blood and bone
Our blood contracts and beats a pulse
Entirely not our own
Dear Ancestor, the place you filled
One hundred years ago
Spreads out among the ones you left
Who would have loved you so
I wonder how you lived and loved
I wonder if you knew
That someday I would find this spot
And come to visit you."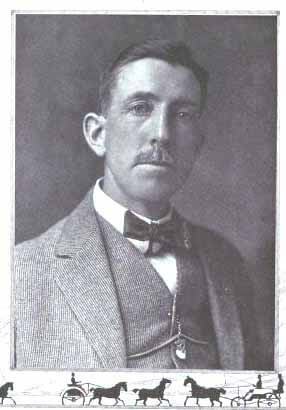 About the Author: Walter Butler Palmer
was by b
orn, 22 Jun 1868 in Prairie Center, LaSalle, Illinois.
He was the son of Ephraim Milo Palmer and Sarah Henderson Butler. He married Irena B. Lardin on 25 Sep 1889. A year and a half later, Irena died on May 1891. He married 2nd wife Mary Frances White on 11 Dec 1894 in Chicago, Cook, Illinois. They were the parents of two children; Burton White Palmer and Margaret Allison Palmer. He was a family historian, breeder of trotting and show horses, and an accomplished poet. He wrote the above poem
"Dear Ancestor" in 1906 while he was visiting the grave of his great grandfather; Ephraim Palmer (1760-1852).
He died
6 Jun 1932 in Ottawa, LaSalle, Illinois.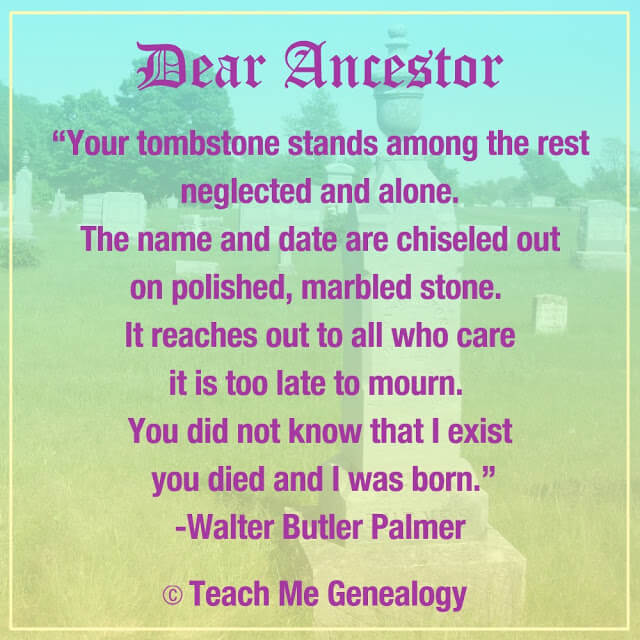 About the photo: If you look closely, you can see a large headstone and final resting place of
my great, great, great grandfather;
George Washington Burnes.
Buried in Norristown Cemetery, in Shelbyville, Shelby, Indiana.
Keep connecting the dots!! -Sarah