This morning, as I was working on my family history, I found a BIG surprise; my great, great grandfather's Civil War draft registration record. I never knew he served in the Civil War; this changed everything. You can only imagine how excited I was. So, how did I find this? It was on accident while I was researching another ancestor (isn't that how it usually happens?) I just happened to notice one of those little green leaves, "Ancestry hints" on Ancestry.com. I clicked on the leaf next to his name and it brought me to the original Civil War draft record. As I looked through this record, I noticed these few but very important details:
James Burnes

white

24

Farmer

Married

Indiana

Haw Creek township

August 5, 1863.
Here's the record that changed everything. My great, great grandfather, James Burnes is #14.
Photo credit:
Ancestry.com
.
Click the photo to enlarge.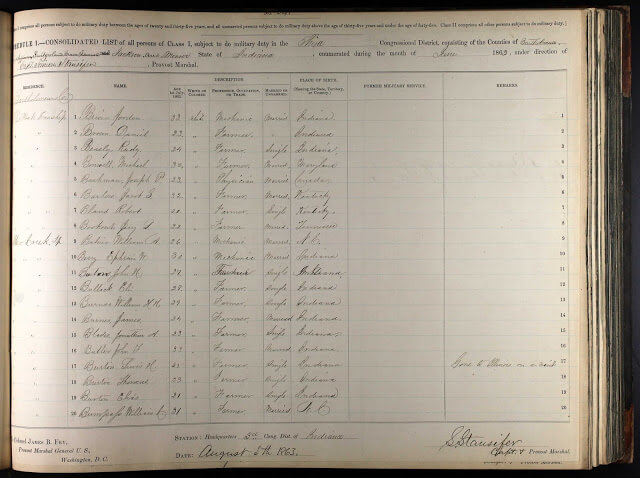 Here's the zoomed in verson of the above picture. Photo Credit: Ancestry.com
So, the story does not end there. On the record, right above his name, was his older brother, William Henry Harrison Burnes (#13), who was drafted at the same time as him. My excitement grew even more. I knew very little about William H.H. Burnes. I had never seen any record about him because he died in his early thirties. I wondered, did he die in the war? Was this the reason why he never married or had any children? This opened the door to further my research and this changed my family history quite a bit.

I am grateful for the knowledge I have of my ancestors. To have the Internet to give us "hints" and to educate us about our heritage, is truly a modern day miracle. To continue this family history is a gift for them and us, and many generations.

Meet my great, great grandfather,

James Jay Burnes:
Born:
21 December 1838 in Washington, Shelby, Indiana.
Married: 17 November 1859 in County Line, Jefferson, Iowa.

Civil War: Drafted on 5 August 1863.

Children: 11

Widowed: Age 40.
Never Remarried.
Entered into heaven:
17 Decmeber 1905, (age 66).