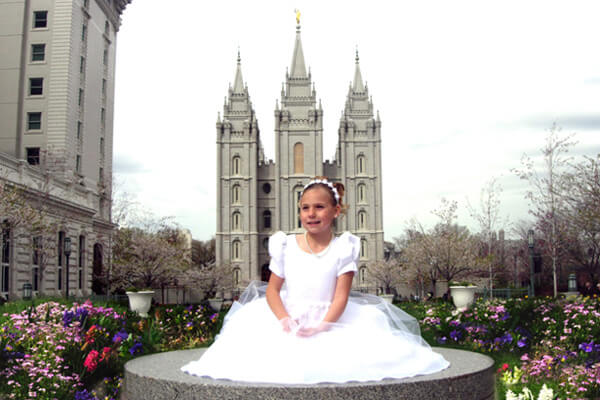 "One thing have I desired of the Lord…that I may dwell in the house of the Lord all the days of my life, to behold the beauty of the Lord, and to enquire in his temple." -
Psalms 27:4
For My Sunday Message, I thought it would be a fun idea to have a Temple facts challenge. This challenge can also be found on the
LDS.org site.
The picture above is my daughter's 8 year old baptism picture that was taken at her favorite temple: the Salt Lake City Temple. Which temple is your favorite?
Even if you are not able to visit all of the temples, you can still learn about them. Answer these questions to see if you know some of the interesting facts that make each temple unique. You can also visit lds.org/temples to find information about these temples. Find the answers below.
1. Although ground was broken to build this temple in February 1853, it was not completed until April 1893, 40 years later.
A. Salt Lake Temple
B. Nauvoo Illinois Temple
C. London England Temple
D. São Paulo Brazil Temple
2. This temple was destroyed in 1848 after early members of the Church were forced to leave, but it was rebuilt and rededicated in 2002.
A. St. George Utah Temple
B. Nauvoo Illinois Temple
C. Ciudad Juárez México Temple
D. Bern Switzerland Temple
3. Most of the temples have a tower or spire, but there are a few that don't. Name one of these temples.
A. Tokyo Japan Temple
B. Laie Hawaii Temple
C. Boise Idaho Temple
D. Orlando Florida Temple
4. Which was the first temple constructed outside of the United States?
A. Bern Switzerland Temple
B. Apia Samoa Temple
C. Stockholm Sweden Temple
D. Cardston Alberta Temple
5. This temple is located on the top three floors of a building that includes a mission office and a meetinghouse on its lower levels.
A. Hong Kong China Temple
B. Seattle Washington Temple
C. Dallas Texas Temple
D. Helsinki Finland Temple
6. This temple, which was formerly the Uintah Stake Tabernacle, is one of the few temples that was converted from an existing building.
A. Madrid Spain Temple
B. Vernal Utah Temple
C. Manti Utah Temple
D. Anchorage Alaska Temple
7. These two temples were dedicated on the same day—November 14, 1999.
A. Halifax Nova Scotia Temple and Regina Saskatchewan Temple
B. Guatemala City Guatemala Temple and Columbus Ohio Temple
C. Louisville Kentucky Temple and Seoul Korea Temple
D. Papeete Tahiti Temple and Fukuoka Japan Temple
8. The upper exterior of this temple includes a sculpted depiction of Christ with His disciples.
A. México City México Temple
B. Ogden Utah Temple
C. Oakland California Temple
D. Washington D.C. Temple
Salt Lake Temple © 1992 IRI; Nauvoo Illinois Temple © 2002 IRI; Hawaii Temple, by Craig Dimond, © IRI; Cardston Alberta Temple © 1991 Mel Ebelshauser; Hong Kong Temple, by Craig Dimond, © IRI; Vernal Utah Temple, by John Luke, © IRI; Halifax Nova Scotia Temple © 2002 Robert Thompson; Regina Saskatchewan Temple, by Don Cruickshank, © IRI; Oakland California Temple © IRI
Answers: 1) A, 2) B, 3) B, 4) D, 5) A, 6) B, 7) A, 8) C.