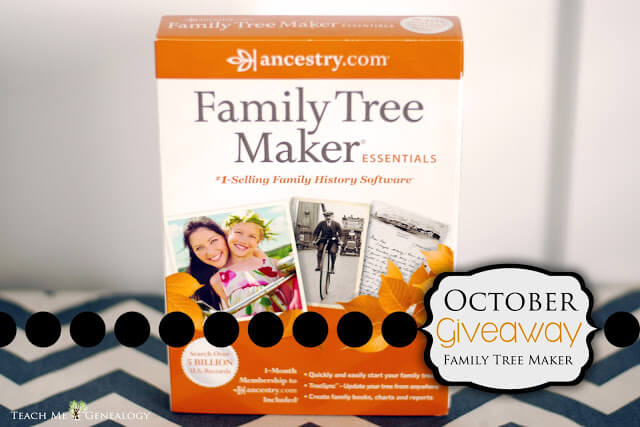 ENTER TO WIN: Family Tree Maker 2012 Software by Ancestry
Rated the #1 selling Family History Software!
Plus 1 month unlimited access to Ancestry.com - More info Below
Shipped to you for FREE!
It's easy and fun! Here's how to enter:
Click on the +1, +2, +3 options below on the Raffle-copter, to enter.
+1 means raffle-copter puts your name in 1 time if you do the following:
Follow our Facebook Page at:
#/teachmegenealogy
+2 means, raffle-copter puts your name in 2 times when you leave a comment below:
Leave a comment about a Halloween tradition you had growing up.

+3 means, raffle-copter puts your name in 3 times, if you tweet about this giveaway on Twitter @tmgenealogy
If you do all 3, your name gets entered 6 times; its' that easy. Do it Once a day!!
a Rafflecopter giveaway
With Family Tree Maker Essentials 2012 You Can:
Organize your family story privately and conveniently on your PC.

Access billions of U.S. immigration, marriage, military, census records and more via a

1-month* membership to Ancestry.com.

Incorporate photos, documents, audio and video into your tree. Even create slideshows.

Publish beautiful keepsakes and books to share with friends and family.
What's New in Family Tree Maker Essentials?
NEW! Get started quickly with an enhanced, easy-to-use interface.

NEW! Build your tree more easily with upgraded help topics and video tutorials.

NEW! Print more informative family trees by including generation labels & text boxes.

NEW! Easily sync your desktop tree with your Ancestry.com tree.

NEW! Update and share your tree from any Internet connection with TreeSync™.

NEW! View combined families, including step families & adoptees, at a glance.