"The challenge I give you as a genealogist is to reach beyond the vital statistics to a new world of understanding, both of your ancestors and of yourself. Preserve those details of your family in written form that will bring understanding to many others and truly enable their hearts - along with your own - to turn to their fathers. Someone has said that there is little point in digging up an ancestor if you aren't going to make him live. If that is true - and I believe it is - your job is not finished until you feel a bit of what he felt, have shared vicariously in his joys and heartaches - perhaps shed a tear with him in his sorrow laughed at the humor in his life, and felt pride in his accomplishment." - Val D. Greenwood
About this photo: You may have seen this picture in a few places; like on our Teach Me Genealogy Facebook page as the main cover photo...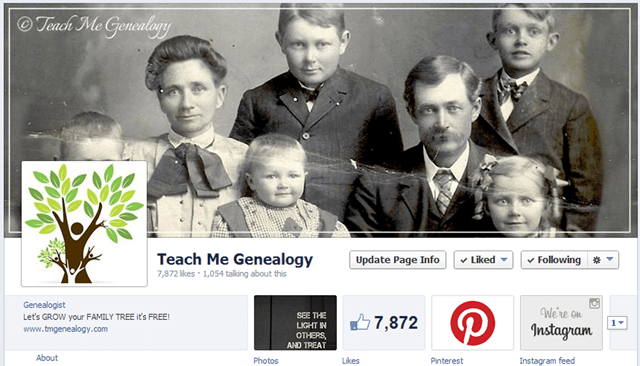 You may have also seen this photo on other Teach Me Genealogy designed quotes like this one...
This photograph is very dear to me and the only family photo I have of my great grandparents. In this photo are my great grandparents, George Fredrick Burnes & Nina Isabelle Bradshaw Burnes. My grandfather William Emry Burnes (back, center) my great grand uncles; Orval Burnes (back, right), Ross Burnes (front, left), and Glen Burnes (baby). Nellie Leotta Burnes Henry is my great grand aunt (front, right)

Photo Taken: 1906
Place: Woodward, Woodward, Oklahoma
Tip: Get your old photos out, scan them into your computer, then put those original photos back in a safe place. Once they are scanned, you can bring them back to life by sharing them on social media and with friends and family.
Keep connecting the dots! -Sarah :)