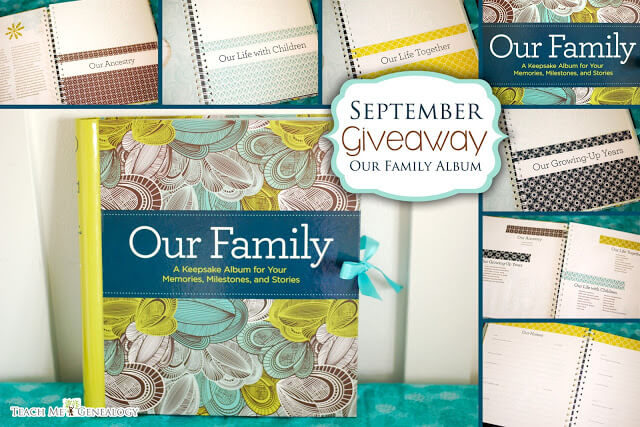 ENTER TO WIN: "OUR FAMILY" Keepsake & Family History Album.
Hardcover - 90 Pages - 10 x 9.8 - More Info Below
Shipped to you for FREE!
It's easy and fun! Here's how to enter:
Click on the +1, +2, +3 options below on the Raffle-copter, to enter.
+1 means raffle-copter puts your name in 1 time if you do the following:
Follow our Facebook Page at:
#/teachmegenealogy
+2 means, raffle-copter puts your name in 2 times when you leave a comment below:
Leave a comment about why your heritage is special to you.

+3 means, raffle-copter puts your name in 3 times, if you tweet about this giveaway on Twitter @tmgenealogy

If you do all 3, your name gets entered 6 times; its' that easy.
Do it Once a day!!
a Rafflecopter giveaway
More info about "OUR FAMILY" Album:
A family record is more than of book of names, dates, and places. It is about the people who fill its pages—those whose life experiences create the story of a family, which can be passed down from generation to generation. Our Family History brings you a beautifully appointed space to capture the who, what, where, and when of your family and your ancestors—from birth of a great, great grandparent to the birth of the newest baby. This keepsake album, with ribbon closure, provides an opportunity to relay a firsthand account of your life in addition to the oral family history that is previously unrecorded; headings and prompts make it easy to record important thoughts and memories. You'll also find sturdy, decorative photo frames, which are built into the album to feature heirloom photographs and pockets to store mementos from landmark events. A family tree is included to give a visual presentation of your ancestral background.
Specs:
Reading level: Ages 18 and up

Hardcover: 90 pages

Publisher: Readers Digest; Spi edition (April 12, 2012)

Language: English

Product Dimensions: 10.1 x 9.8 x 1 inches

Weight: 1.8 pounds

Average Customer Review: 4.6 out of 5 stars
Chronicle for your family…
Detailed information on past generations

Work and community life

Family vacations

Collections and heirlooms

Favorite memories

Words of inspiration for future generations
This beautifully designed album, filled with your own personal reflections, will secure your family legacy and inform your family for years to come.