The wedding dress worn by Jacqueline Bouvier is cited as "one of the best-remembered bridal gowns of all time." The dress was created by African-American Designer, Ann Lowe and made from 49 feet of ivory silk taffeta.

Just ten days before the wedding day, Jacqueline found out that her wedding dress and all her bridesmaids dresses were destroyed by a flood in Ann Lowe's studio. The remarkable Ann Lowe and her staff worked day and night to recreate all the dresses that originally took eight weeks to sew. Jacqueline's wedding dress and all the bridesmaids dresses were
completed and delivered
on-time in just eight days.

She wore the same beautiful lace veil that
her grandmother wore on her wedding day.

Jacqueline Bouvier married then Senator John F. Kennedy on September 12, 1953 in St. Mary's Church
in Newport, Rhode Island.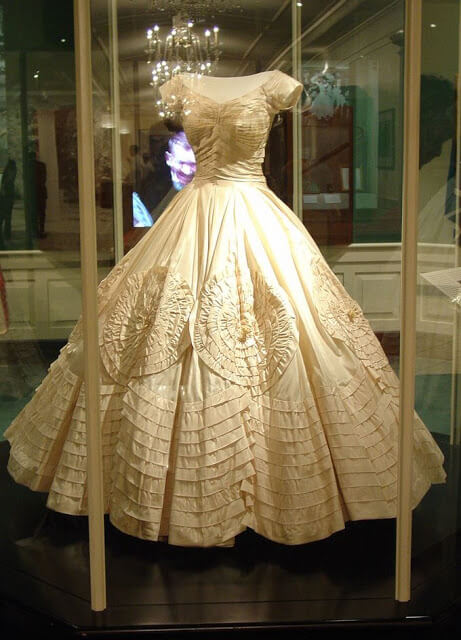 You can see Jacqueline's iconic wedding dress on display at the Kennedy Library in Boston, Massachusetts.
Christopher Andersen (1997). Jack and Jackie: Portrait of an American Marriage. Avon. Retrieved 2 May 2011.